For information about the Inflation Reduction Act and Your Heat Pump, visit our IRA FAQ page!
Heat Pump Repairs, Maintenance & Installations
Upholding our high standards of quality and value, Hader Solutions partners with Bryant as a Factory Authorized Dealer. Our access to a broad spectrum of electric heat pumps is supported by in-depth knowledge of the products we recommend. Whether you're looking for all the bells and whistles of smart, adaptable speed technology or a more budget-friendly option, we have the perfect solution in greater Cincinnati and surrounding areas.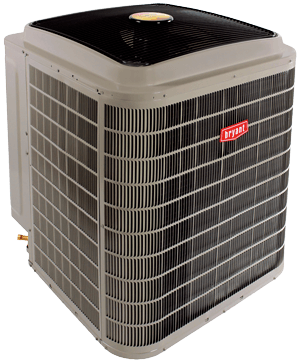 Heat Pump Services Near You In greater Cincinnati and surrounding areas
Consider the model distinguished as the Most Efficient of ENERGY STAR 2020 for operation up to 50% quieter than comparable models. Extreme humidity control removes up to 400% more moisture than standard systems. Variable-speed, smart operation senses and adjusts to changing conditions for more consistent temperature. Bluetooth connectivity allows for software updates and diagnostics.
Trust in our team for your heat pump services!
Hader Solutions looks forward to elevating your comfort while trimming costs and carbon footprint with proper heat pump sizing and installation procedures. Our factory authorized, NATE- and EPA-certified techs are trained in the safe handling of Puron refrigerant and exacting standards of seasonal maintenance and repair. We handle all makes and models, offer extended emergency response hours, and prioritize exemplary customer service for our valued clients across Delhi, Westwood, White Oak, Bridgetown, Dent, Cheviot, Groesbeck, Covedale, and Cleves, OH.
Heat Pump Installations in White Oak, OH | Heat Pump Replacements Groesbeck, OH
---
View Our Other Services
---
Heat Pump Replacements, Heat Pump Repairs & Heat Pump Services

Delhi, OH, Bridgetown, OH, Cheviot, OH, Dent, OH, Westwood, OH & Groesbeck, OH
Heat Pump Installations

∴

Heat Pump Maintenance ∴ Covedale, OH ∴ Dent, OH ∴ Groesbeck, OH